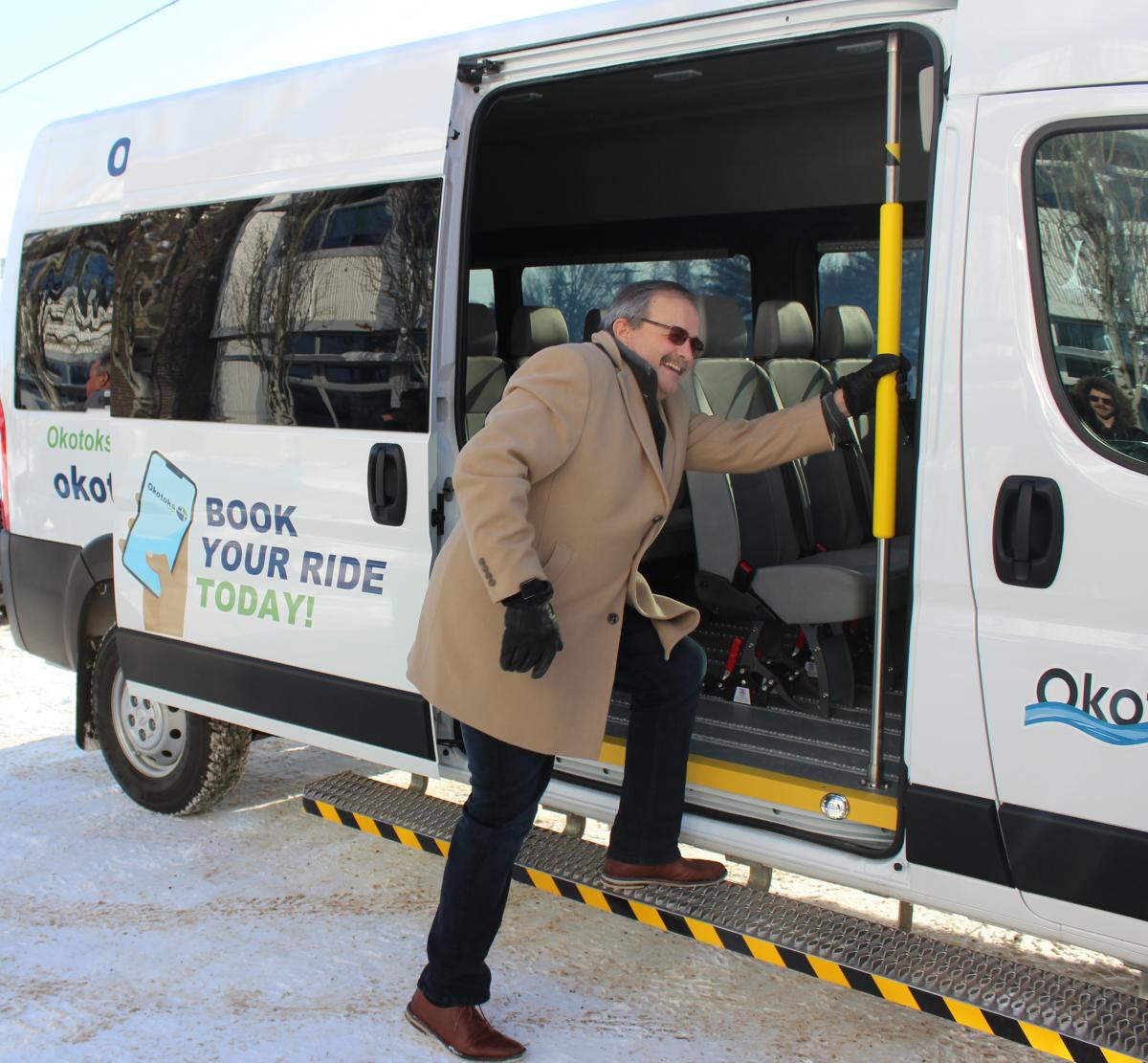 November 29, 2019
New Okotoks Transit service launches December 2, 2019
Okotoks, AB: Okotoks residents will soon be able to access the new, on-demand curb-to-curb ride sharing service.  A brief ceremony celebrating the launch of the service was held at the Okotoks Council Chamber November 29.
"This is very exciting for our community," said Mayor Bill Robertson.  "Residents have consistently indicated that providing Okotoks with transit is a priority and we are thrilled to be able to offer this fantastic new service."
Okotoks Transit will provide a customer-first service, increasing the ability for all residents to move more freely around town, including youth, seniors, those with disabilities, as well as residents who prefer not to use a personal vehicle.  Users will be able to book the service through the Okotoks Transit app, the website or over the phone and receive curb-to-curb transportation within the town's boundary. 
The service will operate Monday through Saturday, 6:00am to 11:30pm, with rates at $2.75 one-way and children 0-5 able to ride free. For those who prefer not to pay online, paper tickets are available for purchase at various locations in Okotoks. The service is partly funded by the Provincial GreenTRIP program, which contributed 67% of the capital expenditures related to the service.  Okotoks is the first community in Canada to offer a curb-to-curb on-demand transit system for the general public.
The new service is in alignment with Council's commitment to provide residents with sustainable transportation options. "With growing traffic congestion and GHG emissions generated from single-occupancy vehicles, transit has become increasingly important to municipalities throughout North America," said David Gardner, transit specialist. "The on-demand service provides greater access to community amenities for all residents and can be more cost effective than a traditional fixed-route system for small to medium-sized communities."