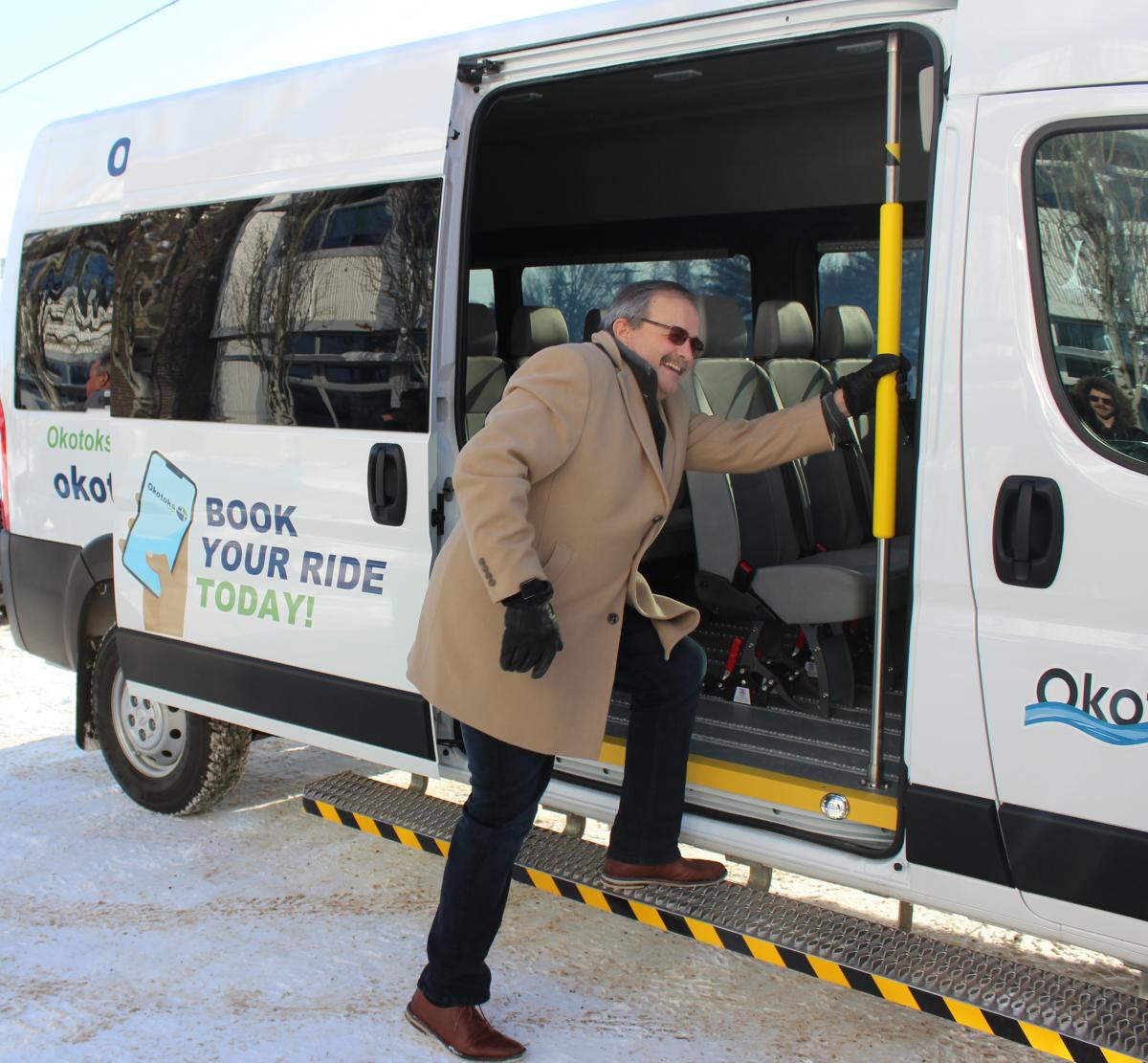 March 27, 2020
Okotoks Transit to assist with grocery delivery
Okotoks, AB: To help support the community with self-isolation during the ongoing COVID-19 crisis, Okotoks Transit will be assisting local grocery stores with deliveries of groceries within the transit service area.
"Supporting our community is always a priority for Okotoks Town Council and we are pleased to be able to use Okotoks Transit for this important service.  We are deeply committed to assisting Okotoks residents during these challenging times," said Mayor Bill Robertson.
Okotoks Transit has reached out to local stores; currently Sobeys & Save on Foods are set up to take advantage of the delivery service. IIf other local stores are interested in participating, please submit an inquiry by clicking here.
This temporary service will be co-ordinated between the grocery store and Okotoks Transit; the $2.50 transit charge is generously being paid by the participating grocery stores and will not be charged to the customer's grocery order. Grocery delivery will operate in a separate vehicle from passenger transit.
For information on ordering the delivery service, please contact the respective stores:Sobeys: General Inquiries – 403-938-3439; Deliveries – 403-938-4043; SobeysOkotoks.com Save on Foods: 587-757-8966
Passenger transit is the primary purpose of Okotoks Transit and grocery delivery will be provided without compromising passenger needs.  Should there be an increased demand for passenger transit over the coming weeks, this will take priority over grocery deliveries. 
The Town has also negotiated a discounted rate of $10 per trip with Town Taxi, which provides the Town's Community Access Program, for collecting and delivering groceries. The taxi service applies within both developed and annexed boundaries of Okotoks to assist with self-isolation.  Arrangements and payment for this delivery service must be made directly with Town Taxi (403-975-2233) and the respective store that individuals are ordering the groceries from. Other local taxi services may also be willing to assist with grocery deliveries; please contact them directly.
Launch Info
November 29, 2019
New Okotoks Transit service launches December 2, 2019
Okotoks, AB: Okotoks residents will soon be able to access the new, on-demand curb-to-curb ride sharing service.  A brief ceremony celebrating the launch of the service was held at the Okotoks Council Chamber November 29.
"This is very exciting for our community," said Mayor Bill Robertson.  "Residents have consistently indicated that providing Okotoks with transit is a priority and we are thrilled to be able to offer this fantastic new service."
Okotoks Transit will provide a customer-first service, increasing the ability for all residents to move more freely around town, including youth, seniors, those with disabilities, as well as residents who prefer not to use a personal vehicle.  Users will be able to book the service through the Okotoks Transit app, the website or over the phone and receive curb-to-curb transportation within the town's boundary. 
The service will operate Monday through Saturday, 6:00am to 11:30pm, with rates at $2.75 one-way and children 0-5 able to ride free. For those who prefer not to pay online, paper tickets are available for purchase at various locations in Okotoks. The service is partly funded by the Provincial GreenTRIP program, which contributed 67% of the capital expenditures related to the service.  Okotoks is the first community in Canada to offer a curb-to-curb on-demand transit system for the general public.
The new service is in alignment with Council's commitment to provide residents with sustainable transportation options. "With growing traffic congestion and GHG emissions generated from single-occupancy vehicles, transit has become increasingly important to municipalities throughout North America," said David Gardner, transit specialist. "The on-demand service provides greater access to community amenities for all residents and can be more cost effective than a traditional fixed-route system for small to medium-sized communities."